Quick intro:  Hiking expert and New York Times best-selling writer Karen Berger has completed the triple crown (thru-hikes of the AT, PCT, and CDT), and has trekked more than 17,000 miles on six continents.

June 29, 2015
America's Great Hiking Trails just won the IndieFab gold award in the adventure and recreation books category from Foreword Magazine. The awards were announced at the annual meeting of the American Library Association this weekend.
The book explores the national scenic trails system of the United States: More than 17,000 miles of trails, including the Appalachian, Pacific Crest, Continental Divide, North Country, Ice Age, Potomac National Heritage, Natchez Trace, Ice Age,  Arizona, Pacific Northwest, and New England national scenic trails.
I'm grateful to have worked with the super-smart editors at Rizzoli , as well as to Bart Smith , the amazing photographer who was my partner in this project, and to Bill McKibben, who took the time to write the fore-word to the book.
America's Great Hiking Trails has also been a New York Times travel bestseller, and received a gold award for best book from the Society of American Travel Writers Eastern Chapter.
June 10, 2015
I'm not much into  "setting records" but this seems like a goofy-cool thing to participate in — Backpacker Magazine's June 20 attempt to do a 24-hour group thru- hike  of the AT.
The Appalachian Trail Conservancy is supporting the project, Is is being promoted as a celebration of the trail and a way to involve people of all levels of fitness and experience in hiking the whole thing.. I can get with that!
Basically the idea is to divide the trail into segments, and have people sign up to do each one . I've signed up for my "home segment" up the Jug End  in Massachusetts.  It's the section of the AT that is closest to my house — only a couple of miles away.  Here's what I'll be seeing. What about you?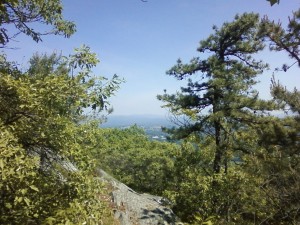 June 5, 2015
Tomorrow, Saturday June 6, is National Trails Day — and opportunities to celebrate America's trails will take place in all 50 states. To find an event, check out the event schedule . Or find your way to a trail near you.
Me, I'll be on the AT around the Massachusetts-Connecticut border. Sere you out there!
May 13, 2015
Fellow outdoor writer Peter Potterfield and I were just intrerviewed on Minnesota Public rRdaio, speaking about great hikes worldwide. A lively group of listeners also callwed in and tweeted pictures of themselves at summits, in forests, and looking out over passes all over the world.
We talked about getting started, preparing for hikes, favorite destinations, avoiding crowds, and a host of other subjects.
For the full recording,  go to the MPR site.
April 17, 2015
Today is the last day to register online for the Pacific Crest Trail kickoff events being held next week at Lake Morena State Park in southern California.
The event is designed primarily to help this year's thru-hikers get started, with trail info, permits, gear demonstrations, and safety sessions. Campground space is full, but you can attend as a day visitor. Day registration is available onsite, if you miss today's deadline.
April 10, 2015
Interesting development on the Appalachian Trail this year: To help prevent overcrowding during the main thru-hiking season, the Appalachian Trail Conservancy is promoting the idea of "flip-flopping": Having hikers start in Harper's Ferry, West Virginia (or some other central spot on the trail) and hike either northbound or sounthbound, then "flip," (getting a ride either back to Harper's Ferry or to the other terminus). Then they finish the other half of the trail.
This will take hundreds of people out of the main traffic flow, relieving the trail of congestion and giving hikers the option of having a less crowded experience.  Although the idea of geographic continuity — one long northbound or southbound hike — appeals to me, I have to say that given the hordes of people now starting the Appalachian Trail, a flip flop sounds like a good idea. I'd probably head north, to do the New England section in summer, then save the south for the cooler temperatures of autumn.  The flip-flop also offers different scheduling options — you could start later in the season without having to deal with the sometimes brutal summer heat of the mid-Atlantic.
Check out the ATC's Flip Flop Kickoff the weekend of May 2 in Harpers Ferry, WV. There will be music, workshops, and lots of trail talk.
March 26, 2015
What kind of shape are your legs in after the winter? Mine aren't too bad — I've been skiing almost every day — probably about 75 days in total this winter. But skiing muscles aren't necessarily the same as hiking muscles, so I have to get going on pre-hike training.
I've just signed a contact to write The World's Great Hiking Trails for Rizzoli,. It's  follow-up book to America's Great Hiking Trails. To choose the trails , I've relied on many years of my own experience around the world. But obviously, one person can't know everything, so I also turned to experts from the long distance hiking community. I came up with a list, and between now and November, a lot of my time is going to be spent visiting some of the fantastic trails I haven't yet hiked.
One of the trips I'm most excited about is the Via Ferrata ("iron ways") of the Dolomites in northern italy. I've been hearing about this region since I was a little girl and my great aunts sent postcards back showing slyscrapnig mountains .
In  early September, I'll be visiting the Alta Via 1 and 2 with the guide service, Holimites, which offers guided bicycling, trekking, trail running, and mountaineering trips in the Dolomites. .The Via Ferrata — "iron ways" — of the Dolomites are a series of mountaineering routes with cables, ladders, bridges and other aids built in to make these beautiful mountains accessible. The routes originated in World War I, when this region was not a peaceful recreation area, but a vertical  battlefield. The hike includes experiencing both the natural beauty of the region as well as its history.
I'll be posting more about the hikes I'll be doing and how I'm preparing for them.
March 22, 2015
Karen's book America's Great Hiking Trails
, was featured in an article by Larry  Bleiberg in USA Today about 10 great hiking trails.  She recommends trails in California, Oregon, Colorado, Utah, Arizona, Minnesota, Nebraska, Maine, Florida,  and Hawaii. Too bad there wasn't room for a hundred trails but for more you can always check out the book!
March 16, 2015
Just back from a whirlwind trip to Peru. Check out what it's like to hike the the muddy Amazon basin in the rainy season. It was a memorable hike, interwoven with a birdwatching canoe ride at Lake Sandoval. For more on Peru, please visit Buckettripper.com, where I've posted a photo essay about some of Peru's iconic attractions
March, 2015
Check the categories list on the left for articles you may be interested in.
I'm continuing to upload stories on hiking, backpacking, and outdoor adventure.
For hikers:  Karen's series of articles on the best long-distance trails is being uploaded. Also in the queue are articles on hiking skills, gear, clothing, hiking health and safety and more. Some are already posted. Check the left sidebar (or to the bottom of your mobile device), and come back often.
For editors and readers: You'll find info about Karen's books and other writing in the tabs (or the menu icon, for mobile) at the upper right of your page. You can also visit her professional writing site.